Over the last decade, technology change has made us rethink how we approach and think about the business and how customers look at our company. The medium we used to communicate to the customer has been changing. The outlook and the way the customers look at the industry have taken a substantial shift to a new zone where if you have a specialized team for Android App Development for your brand, you are accepted as one of the most updated and sophisticated people on the face of the earth.
Now, they expect a dedicated development of an app of your brand to give them personalized and customized support. This has made it easy for the company to push the products which are close to the needs and wants as per the customer behavior as well as the customer can get the things as per their requirements within less time spent on the app and best offers better than the competitors which can be offline or online. It not only helps to get the best services that are less slack but also helps to get the data transmitted to the customer faster.
What is Android App Development?
Android App Development is one of the most used and easily configurable software to develop applications for your business. The base to create the android is Linux Kernel, and the founder is Google. The developers used an android development kit (SDK) to build and configure apps on the android studio per the client's requirements. Using different GUI has made it easy for developers to bring their imagination to reality.
The android platform has always been at the top as it is open source and can be used by any mobile company who wants to mold it as per their needs and requirements. According to earth web, over 3 billion Android users are spread over 190 countries. The android apps support any system written in JAVA.
With hundreds and millions of Android apps available in the App Market and the demand for mobile apps soaring in the next few years, there is a great deal to choose from. With more hardware built into the latest Android handsets and wearables, even more, functionality will be available. Branded apps, games, enterprise tools, and (AR) augmented reality are all possible.
What are the Basic Libraries Required in Andriod App Development?
Android. App:

This library is the basis for all Android applications, providing access to the application model.

Google. Content:

Among its most important functions is to support content access and facilitate communication between application components.

Android. Database:

This library connects the application to the SQLite database and accesses the database's data through the content providers.

Android.OpenGL:

This library allows 3D graphics rendering on the java platform through the Java Development Kit, otherwise known as the JDK.

Android.Os:

Android applications receive operating system services like messaging, communication between processes, task assignment, and memory management from this library.

Android. Text:

A library for text manipulation that enables text graphics to be displayed on an Android device

Android.View:

In application development, this key is used to alter the user interface.

Android. Widget:

This library provides user interface components, including lists, buttons, scroll bars, layout managers, and radio buttons.

Android.WebKit:

The web browser functionality can be inherited from the web applications and included.
Why is Android App Development Important?
Android Apps can help users reach their desired services within moments, and they can also get the best services within the less speculated time per their needs and requirements. It acts as a bridge between the business and the customers so that the customers and the companies can talk to each other without any 3rd party, which not only improves customer satisfaction but also makes the company's services reach more and more users in less time.
With mobile apps, the company can also increase its services and functionalities with less advertisement, as most users are already using their apps. They need to market it over the apps and push notifications, which is less hectic than concentrating on all the marketing channels and trying to achieve the highest goals in less time.
Top Benefits Of Android App Development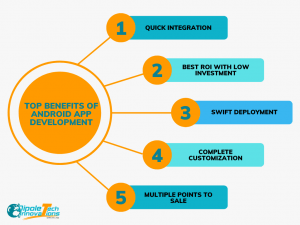 Quick Integration- Unlike Apple iOS, android app development can fulfill all the needs per the customers' requirements because it is easily integrated with all the devices as the basis on which it lands is the same, that is – Linux Kernel. Like us, we have experts in Android app development who not only move quickly but also get the primary picture of the functionality and easily integrate everything per your needs and requirements.
Best ROI with Low Investment-

The Return on Investment or ROI is one of the critical factors why everyone chooses android. The android SDK is readily available without any costs, making it feasible for the developers and the companies to procure and get them built per their client's needs. However, developers/ development teams charge a one-time registration fee for application distribution. After that, they can develop and test the product on any computer device, ensuring low investment and increased user engagement. This results in a more engaging app for end users and a higher return on investment for the enterprise.

Swift Deployment-

Businesses can develop Android apps in a matter of hours, giving them a competitive edge over their competitors. You must build a business app as soon as possible to gain a competitive edge over your rivals. It gives you a competitive advantage. Developing Android apps faster with an easy integration of desired features is likely with the help of Android app development tools. A skilled Android developer can build a mobile app for your business in a shorter amount of time, and not only that, but you can also modify it in response to changing requirements.

Complete Customization-

The Android platform is open source and provides developers with the most outstanding amount of customization options. This is why Android applications are so popular. Moreover, the Android OS makes it easy for businesses to create flexible Android apps that integrate easily into their existing multimedia tools and data management functions. By accommodating changing business requirements, enterprises can reach a broader customer base. Be it a simple modification to a considerable change in the software of the app; everything can be done quickly compared to other platforms, making it the most adaptable platform for companies.

Multiple points to sale-

With Android app development services, you don't have to rely on a single market to distribute your applications like on other mobile platforms. You can use third-party application marketplaces (especially in Google Android Market). Still, you can create your distribution and sales channel: applications for vertical markets to develop new application stores and place them on your website. Build it, and publish it. A variety of promotional strategies are available for reaching your end users.
Why Do We Hire An Android Developer from DipoleTechi?
In today's market, mobile app development is a top priority. If you want to succeed, you need an app. After all, the main reason for achieving better ROI is to serve customers. You must connect with the Best Android App Development Company to meet your requirements. To complete your future goals, they will need to be satisfied. Since the different stages of app development are complicated, only experts can handle them. 
Getting in touch with experts will save you time and money if you don't want to waste them. As mentioned, you don't have to feel pressured to find them, but do you know why? We offer UI/UX, quality assurance, and expert developers to start-ups, small businesses, and large corporations. We are the company you need if you need an app development company (Android and iOS).
Book a call for free consultation